The research reveals there is a lot of potential.
Animal studies show it could help extend the length of sleep overall. And in human studies, volunteers who took CBD reported fewer disruptions to their sleep.
Still other research shows it helps reduce daytime sleepiness, which is critical for keeping your sleep cycle balanced and healthy.
Wouldn't it be great to enjoy your afternoon for once without the dreaded "3 p.m. crash"?
Plus…
Scientists have discovered that the feeling of stress can amplify the sensation of pain—which is one reason why…
Sanjay Gupta, M.D., stated live on CNN that this plant "can help treat pain. That is a consensus by the National Academy of Sciences. That is not an opinion. That is a fact."
But doctors are so quick these days to hand you a prescription every time you tweak your back or get a case of tennis elbow.
I don't have to tell you how dangerous their "quick fix" solutions like opioids can be.
Of course, CBD doesn't do anything remotely close to what those dangerous prescriptions do—and that's a very good thing.
You see, the discovery of the body's ECS taught us a thing or two about how pain works in the body.
Turns out, CBD works on the same pathway in your ECS as Tylenol!
Just like Tylenol, it affects the receptor in your brain known as CB1, which turns down the pain signal in your body.
Animal studies show that one of the ways CBD works is to regulate inflammation in the joints—highlighting its enormous potential for supporting comfortable knees, hips, shoulders, elbows, wrists, and other joints that wear out with age.
And here's a little-known secret about CBD that explains why Baby Boomers are turning to it in droves:
You see, ALL the areas of your body that make you feel "old"—not just your brain, but also your skin, your vascular system, your eyes, and even your bones and muscles—have receptors that are built for this plant extract.
So do your lungs, kidneys, pancreas, thyroid, immune system, gastrointestinal tract, liver… They're all linked into the ECS.
This underscores just how powerful CBD can be throughout your entire body, and for your overall health and well-being.
CBD research has exploded over the past five years, and scientists are just getting started. Today there are 168 clinical studies in progress registered with the U.S. National Library of Medicine—with more to come.
So the next time you hear someone say there's "no research" on CBD—you'll know the truth.
It's a shame there's so much misinformation out there, because it means so many people are missing out on the true power this plant is known to have.,,
From relieving stress…to eliminating aches and pains…to delivering deep, restful sleep…and even boosting your brain function.
And if you haven't tried CBD yet…
But before you try it, I need to let you in on a little secret that answers the all-important question…
People across America are raving about CBD…but some have reported they simply can't feel it.
So what's the difference?
And is there hope for you if you've been let down by CBD in the past?
YES.
You see, so many products out there are completely missing 1 simple secret that makes CBD work.
Scientists have discovered the true power of the hemp plant doesn't come from CBD alone!
With the full range of phytochemicals
found naturally in the hemp plant!
This secret is no surprise to me or anyone else who's been in the nutraceutical industry.
All plants are designed this way, and traditional herbalists have been using (and respecting) the "whole plant" method since the beginning of time.
And dozens of scientific studies have demonstrated how multiple compounds in a single plant are much more powerful together than they are alone.

This incredible synergy is called the "Entourage Effect." And if you've been reading up on hemp or following the headlines, you've probably heard about it.
But you need to know…
Most CBD formulas only include a small slice of the bioactive compounds found naturally in hemp…
And completely IGNORE some of the very best phytochemicals!
In fact, when other manufacturers make their CBD, they use extraction techniques that can't collect the wide range of compounds found in hemp.
So the good stuff gets left behind…and thrown right into the trash!
To get a "full spectrum" effect…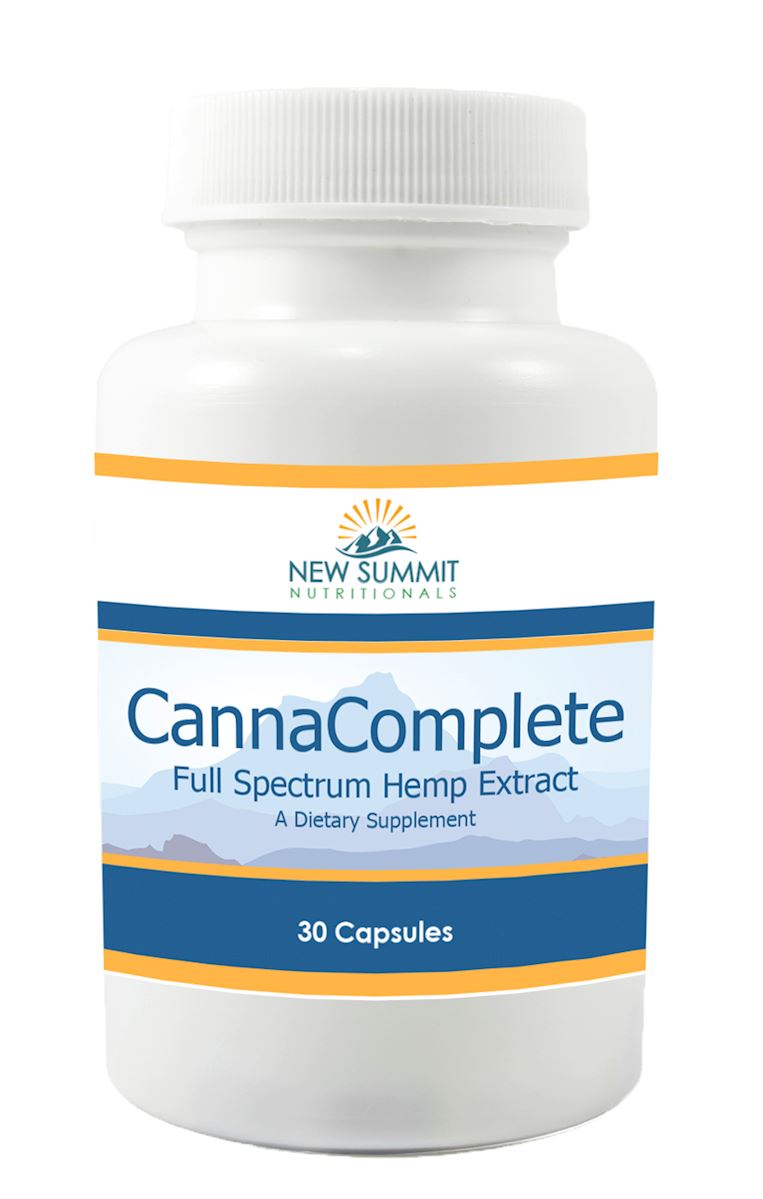 So let me walk you through how we make CannaComplete—

You might hear other formulators talk about "CO2 extraction," "ethanol extraction," or even "olive oil extraction."
But if you're looking for the kind of full spectrum effect I'm talking about, you need Whole Hemp, Low Temp Extraction…
There's only one hemp extract on the market that uses this cutting-edge technique—and we're among the very first of an exclusive, small group within the industry that's been given access to it.
It's called Cannabid-ALL™, and it's the only hemp we use in CannaComplete.
This Whole Hemp, Low Temp Extraction pulls out other hidden gems in the hemp plant, which have been ignored and underappreciated this whole time.
Here are the highlights…
First up:
Terpenes—a group of molecules that amplify CBD's best-known benefits.
Terpenes are like the botanical equivalent of yoga.
They're strong antioxidants that help protect the body's many cells from physical stress…and protect your mind from emotional stress.
Naturopathic doctor Stefan Kuprowsky explained in a recent lecture that each terpene helps hemp regulate the ECS in a unique way…
For example, the terpene called Beta-C works with CBD to create a greater anti-inflammatory and anti-stress effect than CBD can have on its own.
Terpenes are also known to act like natural guardians for the hemp plant, warding off bacteria and fungi
The terpenes OCM and Alpha-B are two of hemp's best built-in security guards.
Even better, Cannabid-ALL also delivers:
Flavonoids—a type of potent antioxidant
And of course:
Chlorophyll—the same pigment that gives green leaves and vegetables their hue, and is a popular supplement in its own right.
Other CBD extracts are brown, which means they're missing the chlorophyll!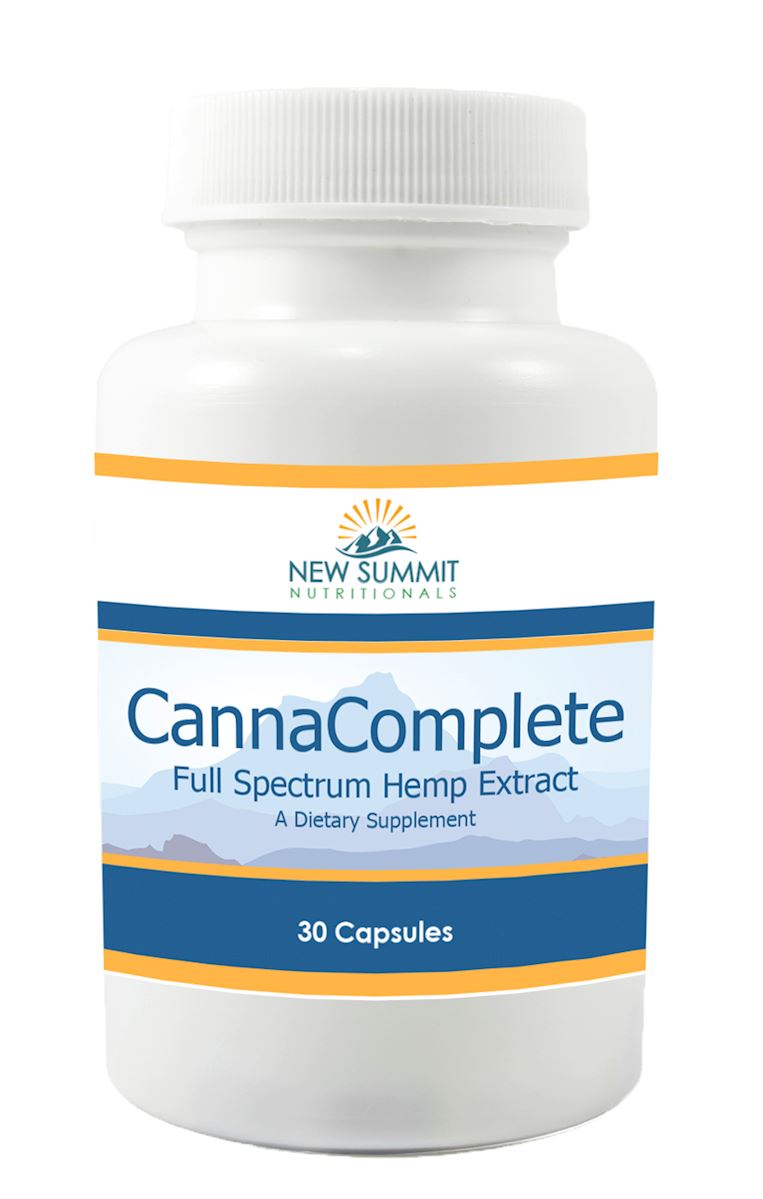 But CannaComplete is green, just like the plant.
Again, ALL of these are natural parts of hemp.
They're not added in—they belong there.
And that's why we can call it "CannaComplete," with 20 mg of CBD per dose, plus the hidden bioactive gems that really make CBD sing.
When you think of what these molecules could do when they go to work with CBD…it just seems outrageous to throw them out!
But that's exactly what most CBD makers do.
This full-spectrum approach can make a dramatic difference in your experience with CBD.
On busy mornings, you might forget your vitamins.
You might forget your watch or your coat.
But you won't forget to take this.
Because once you experience CannaComplete for yourself, you'll realize…this is what makes your day:
Pain-free,
Stress-free,
and
Focused.

By now, you know much more than the "Average Joe" about what CBD is and how it can make your life better.
So to get started, there's just one more thing you need to know:
Most people trying CBD for the first time will go with an oil, because it's everywhere. And it's the kind you see on the news most often.
But a University of Pennsylvania study found there could be a real danger in doing that, because a shocking…
…containing much more or much less CBD than what's printed on the bottle.
That's enough to make you think twice about buying from just any online seller.
So if you've tried CBD before and it didn't work for you, this could be why—scammers are out there!
You see, the CBD market is being flooded right now with people trying to ride the wave of the hemp revolution…and make a quick buck.
And as Congress passes the Farm Bill, widening America's access to hemp, CBD, and other healing cannabinoids…the marketplace is only going to get more crowded.
It's hard to know who to trust.
Suddenly everyone wants to call themselves a CBD expert. And some of these suppliers have never developed a supplement of any kind until now.
They may have no experience with sourcing raw botanicals…and safeguarding the purity of a final product. Some of them are just college kids who know how to build a website!
So you have no real way of knowing whether they have a clean source of hemp…if it's been hosed down in pesticides…or if they've ordered it up from China.
At New Summit Nutritionals, we've been supplement experts for over 25 years. We know what it takes to create powerful formulas while safeguarding the quality, potency, and purity at every step.
And when we saw that many newcomers to the CBD industry didn't take these standards seriously, we were angry—and concerned for the health of our clients.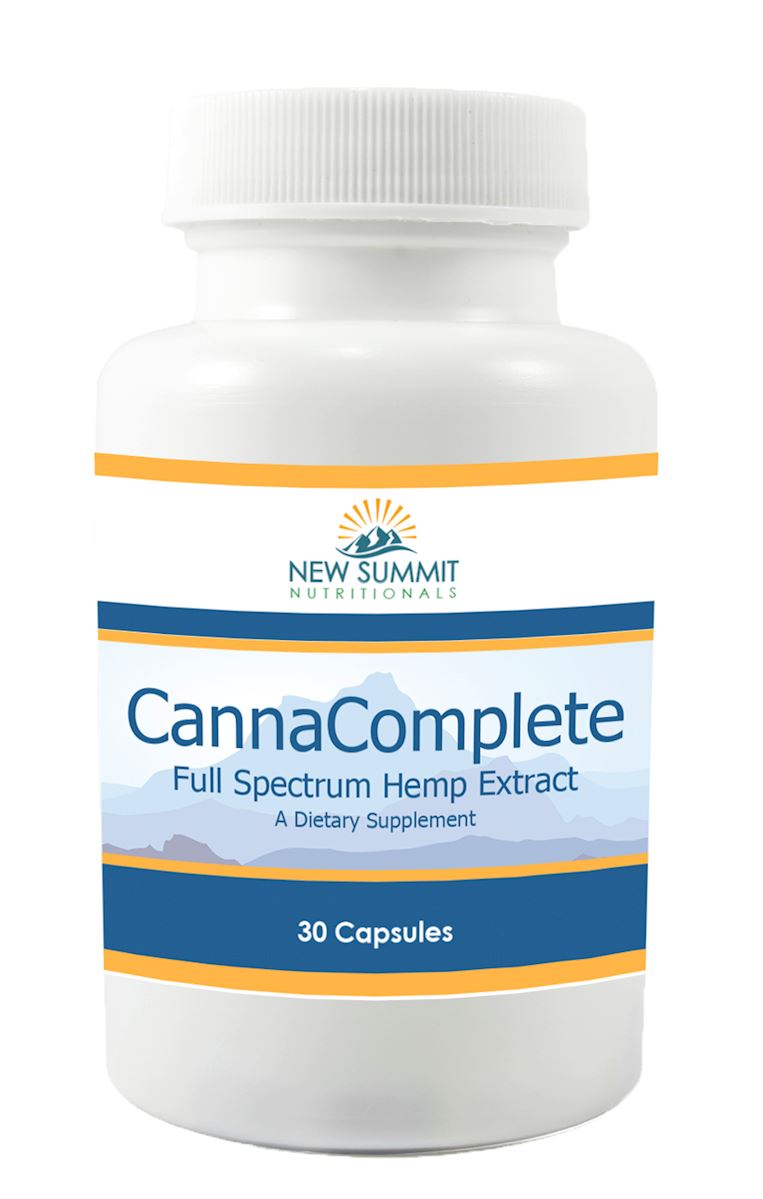 You deserve better than what these mislabeled CBD products have to offer.
That's why we worked with a top team of nutraceutical specialists—a team we've known and worked with personally for more than two decades—to bring you a high-quality, full-spectrum hemp extract you can trust.
This distinctive hemp extract in CannaComplete, called Cannabid-ALL, is the only complete spectrum extract on the market that checks ALL of these boxes:
Made with hemp organically grown in the USA
Extracted with Whole Hemp, Low Temp Technology
Optimizes a complete spectrum of bioactive hemp compounds, including:

CBD
Terpenes
Flavonoids, and
Chlorophyll

And, it's independently verified to haveless than 0.1% THC
In fact, every batch is tested for quality, purity, and potency by an independent, third-party laboratory…
So you can trust that what's on the label is in the bottle.
It's also been tested for 65 chemicals and contaminants, and found to be free of all of them.